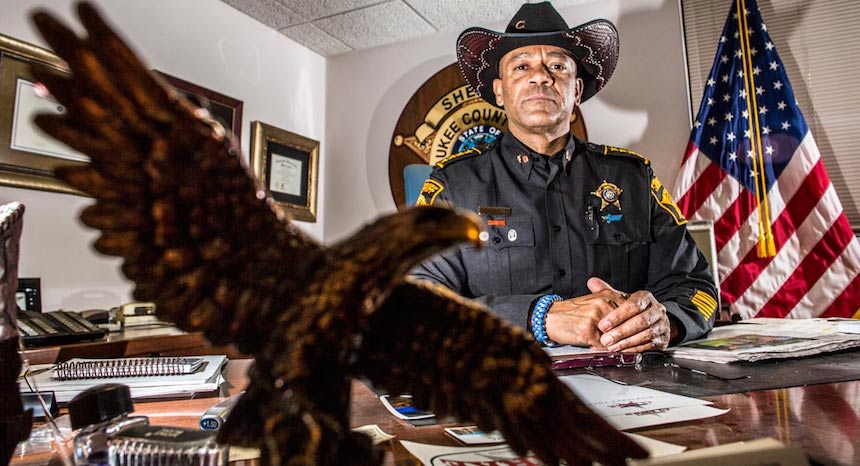 The Anti-Defamation League (ADL) last week expressed deep concern over reports that Milwaukee County Sheriff David A. Clarke Jr. is likely being considered for an appointment as an Assistant Secretary in the Department of Homeland Security (DHS).
"The possible appointment of Sheriff David Clarke to a senior position at DHS should be a matter of serious concern, as he has clear well-documented ties to anti-government extremists and a troubling history of highly offensive rhetoric," said Jonathan A. Greenblatt, ADL CEO. "The fact that Sheriff Clarke may be assuming a key role at DHS is not only dangerous but highly shameful.
"An individual representing such extremist ideologies should not be given this type of leadership role and we urge the Trump administration not to go forward with this appointment,"Greenblatt added.
According to ADL's Center on Extremism, as recently last year, Clarke expanded his ties with anti-government extremist groups, including the Oath Keepers, a growing anti-government extremist group whose avowed purpose is to enlist current and former military, police, and first responder personnel into its ranks in order to oppose a supposedly "tyrannical" government.
Clarke, who is African American, has said he would "grab Democrats by the throat," and used harsh language to condemn the Black Lives Matter protest movement, calling it "black scum."
Last Thursday, Juliette Kayyem, a former DHS assistant secretary in DHS's Office of Partnership and Engagement, urged Secretary of Homeland Security John Kelly not to hire Clarke. The day before, Wednesday, Clarke, in the radio interview, said he would serve at the Department's "Office of Partnership and Programs" — an apparent reference to Kayyem's previous position (DHS has since said that no decision on Clarke has yet been made).
In an open letter to Kelly published on CNN, Kayyem, who had served in the Department under former president Barack Obama, wrote that Clarke's "divisive rhetoric and action will make him an impossible figure for communities to engage with — and that is a critical part of the job."
Kayyem has Lebanese Christian roots, but has raised her three children in the Jewish tradition with her Jewish husband. She warned Kelly that at times of crisis, he will "need someone who can look beyond a narrow police focus" and "does not elicit shock, dismay or rejection. That person is not Sheriff David Clarke," she wrote.
Clarke now finds himself in more trouble, as CNN Kfile's review has found that he had plagiarized sections of his 2013 master's thesis on U.S. security.
In 2013 Clarke earned a master's degree in security studies at the Naval Postgraduate School in Monterey, California. In his thesis, "Making U.S. Security and Privacy Rights Compatible," Clarke failed properly to attribute his sources at least 47 times.
CNN Kfile notes that "In all instances reviewed by CNN's KFile, Clarke lifts language from sources and credits them with a footnote, but does not indicate with quotation marks that he is taking the words verbatim."
In a statement, a spokesperson for the Naval Postgraduate School said standard procedure would be to launch an investigation into a thesis when allegations of plagiarism are made.
"Like all academic institutions, the Naval Postgraduate School takes the integrity of our students' work very seriously, perhaps even more than our peers given the unique nature of our mission and student body," Lt. Cdr. Clint Phillips said. "Standard procedure to any formal accusation of plagiarism is to pull the student's thesis, and perform an investigation into the validity of the claims."
"The university's academic conduct code, and our procedures in checking for plagiarism at the time of thesis submission, and following graduation, can change from year to year. In this particular case, we would be unable to determine any violation until the full investigation is complete."
The Naval Postgraduate School removed Clarke's thesis from its website on Friday according to "standard operating procedure" when validity is questioned, a spokesman told the Associated Press.
This article is published courtesy of Homeland Security News Wire.