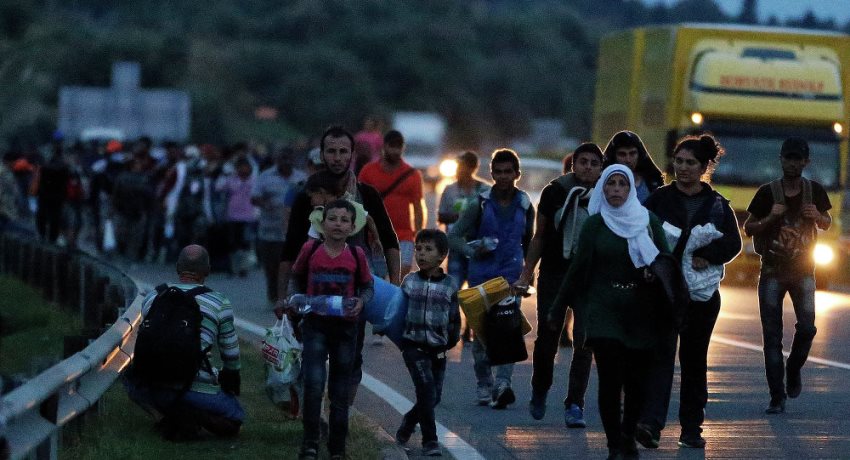 The Berlin-based Ifo Institute, a German center for economic studies, has increased its estimates of German government expenditure on refugees. The Ifo Institute now expects the costs to amount to €21.1 billion for 2015 alone, based on the assumption that 1.1 million refugees will arrive in Germany by the end of the year.
"That figure includes accommodation, food, creches, schools, German courses, training, and administration," said Gabriel Felbermayr of the Ifo Institute on Tuesday.
The Institute previously estimated the costs for the state at €10 billion for the first twelve months, just to cover accommodation and food for 800,000 people.
"The keys to costs and integration are qualifications and the labor market," added Felbermayr.
Many refugees are poorly educated. Over 40 percent of Western German manufacturers surveyed by the Ifo Institute feel that refugees could only be employed as unskilled laborers; the figure is just under 40 percent in construction (in the West) and distribution (in the West). The figures for Eastern Germany are far lower. However, on average and across all branches of manufacturing, 29 percent of companies see the minimum wage as a major constraint. The minimum wage is particularly problematic for branches in the eastern parts of Germany. Here, around 60 percent of firms in distribution and construction see the minimum wage as a barrier to recruiting refugees.
The Ifo Institute said that the findings show that the minimum wage in Germany should be abolished — and not only for refugees, but, at the very least, for all young employees without qualifications. Lawmakers from Chancellor Angela Merkel's conservative party support this position, but the Merkel's coalition partners, the Social Democrats, oppose any changes to the minimum wage.
Refugees should be able to work immediately and to attend German language courses at the same time.
There also needs to be a substantial increase in support for refugees in Syria's neighboring countries.
The Ifo Institute says that the borders of the Schengen Area also need to be secured to keep the internal market functional. Effective entry checks at the German border would be useful.
The German government has not published official estimates for how much the influx of refugees would cost it this year. The federal government has, however, increased funding to the country's sixteen regional states by €4 billion.
For next year, German states and towns have said they could face costs of up €16 billion. The finance minister, Wolfgang Schäuble, has said the federal government would invest roughly €8 billion in 2016 to shelter and integrate asylum seekers.