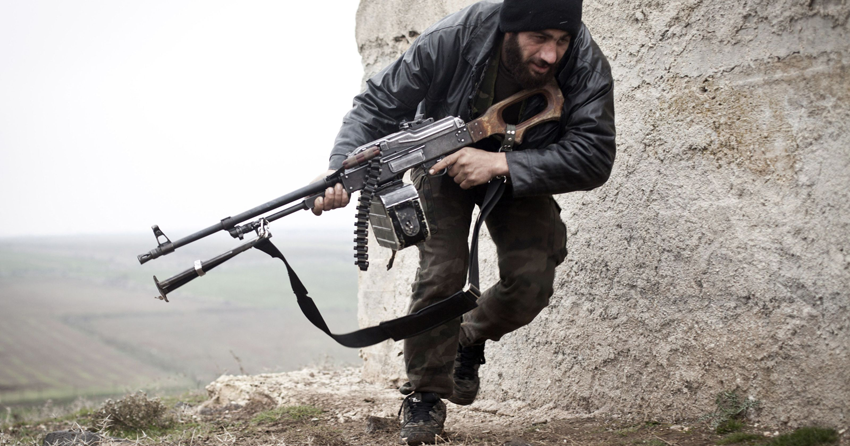 In a demonstration of the U.S. strategy shift in Syria, the U.S. military on Sunday it carried out an arms and ammunition airdrop for Syrian rebel groups fighting Islamic State. Last week Washington announced the end of a $500 million program to train and equip vetted rebel groups.
Al Jazeera reports that U.S. Air Force C-17 cargo aircraft flew into northern Syria to carry out the mission, and that the planes returned safely.
The U.S. military did not offer details about the groups receiving the arms ammunition, but said that the groups' leaders had been screened by the United States. "This successful airdrop provided ammunition to Syrian Arab groups whose leaders were appropriately vetted by the United States," spokesman Colonel Patrick Ryder said in a statement.
President Barack Obama's team is seeking to retool his Syria strategy and build on successes in northern Syria, where U.S.-led airstrikes helped Kurdish forces battling Islamic State, including in the border town of Kobani. A U.S. military official, speaking to Reuters on condition of anonymity, said the U.S. airdrops were part of the new approach.
Part of the new U.S. strategy is to provide U.S. support to the Syrian Arab Coalition, which would operate east of the Euphrates river, pushing south toward Raqqa, ISIS's unofficial capital.
The proposed U.S. strategy also envisions helping groups of mostly Arab fighters west of the Euphrates to clear out Islamic State-controlled terrain along the border with Turkey. This is a delicate issue, since Turkey is uncomfortable with the emergence of a strong Kurdish presence on its borders. The Syrian Kurdish region, unlike the Iraqi Kurdish region, is governed by Kurdish factions affiliated with the PKK, a pro-independence Turkish Kurdish movement designated as a terrorist group by both the United States and the EU.
Between 1982 and 2012, the PKK led a bloody insurgency campaign against the Turkish authorities, in which more than 40,000 Turks were killed. The U.S. military refused to provide any details about the groups that received the supplies, their location, or the type of equipment in the airdrop. "This airdrop seeks to build on the success those forces have had clearingISIL from Syrian territory," Ryder said.