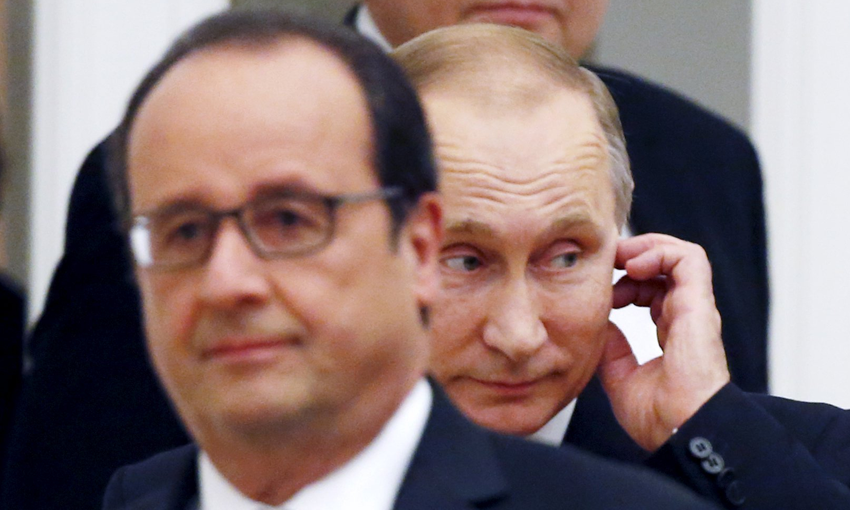 Laurent Fabius, France's foreign minister, said earlier Friday that troops loyal to Bashar al-Assad could be employed in the fight against ISIS, but only as part of a political transition framework in Syria which will not include President Bashar al-Assad.
Fabius's comments highlight the fact that Thursday's meeting between Francois Hollande and Vladimir Putin has failed to bridge the differences between France and Russia with regard to the war in Syria. In the wake of the 13 November terrorist attacks in Paris, France has been leading a diplomatic effort to forge a common strategy to defeat ISIS.
"Troops on the ground cannot be ours, but [there can be] Syrian soldiers from the Free Syrian Army, Sunni Arab states, and why not regime troops," Fabius told RTL radio without specifying whether he meant immediately or in the long-term.
A French official, in a background conversation with the Guardian, said that Fabius's comments were a reiteration of France's long-standing position that there could be no cooperation with Syrian government forces to battle ISIS until a unity transition government was in place.
"It could only happen in the framework of a political transition and Fabius stresses that this transition is urgent and indispensable," the official said.
On Thursday, France and Russia agreed to exchange intelligence on ISISand other rebel groups to improve the effectiveness of their bombing campaigns in Syria.
Even as the two countries move toward greater tactical coordination, there are irreconcilable difference between France and Russia over Assad's role and future. Russia – and Iran — continue to back Assad, but France – and all other European and Sunni Arab countries – see Assad's rule and his brutal policies as the very reason for the emergence and continued appeal of ISIS.
"What we agreed, and this is important, is to strike only terrorists and Daesh (ISIS) and to not strike forces that are fighting terrorism. We will exchange information about whom to hit and whom not to hit," Hollande told a joint news conference with Putin on Thursday.
Hollande added that France will also increase its support to anti-regime rebel groups fighting ISIS in Syria. Putin said Moscow was ready to join with France against a "mutual enemy," but reiterated Moscow's long-standing view that Assad and the Syrian government were also allies in the fight against terrorism.
"I believe that the fate of the president of Syria must stay in the hands of the Syrian people," Putin said, highlighting the differences with Hollande, who stressed Assad could not, and will not, play any future political role in the country.
The Syrian head of state "does not have his place in Syria's future," Hollande said.
Leaving the issue of Assad's future unresolved, both Russia and France have stepped up their bombing campaigns in Syria since the attacks in Paris. Both Putin and Hollande emphasized the need to intensify the strikes against tankers transporting oil across ISIS-controlled territory and hit important source of financing for the militant group, Russia has continued to bomb moderate rebel groups rather than ISIS targets.