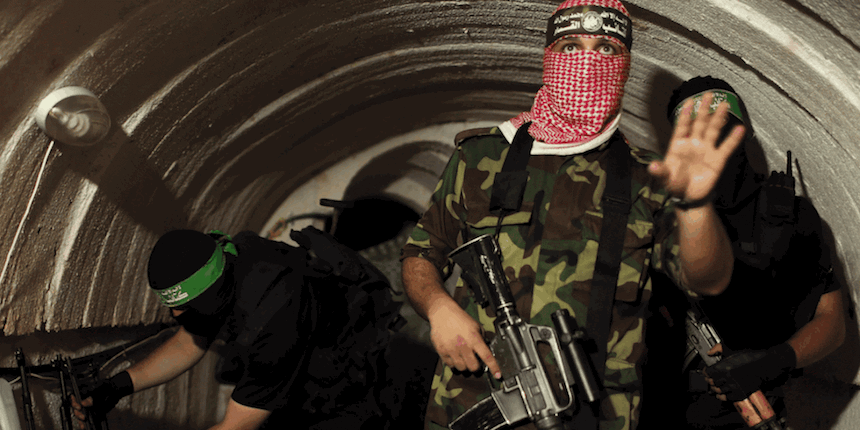 A terror tunnel was discovered under two United Nations Relief and Works Agency (UNRWA) schools, prompting Israel to file a letter of protest with the United Nations on Friday.
In a letter written to both UN Secretary-General António Guterres and the UN Security Council, Israeli Ambassador to the UN Danny Danon wrote, "The latest finding verifies once again that Hamas's cruelty knows no limits, including endangering centers of learning and education, and using children as human shields."
"I call on the Security Council to strongly and unequivocally condemn Hamas and its repeated abuse of civilian infrastructure, and designate this group as a terrorist organization," Danon continued. He also called on the Security Council to ensure that UNagencies "remain neutral and safeguarded from abuse by terrorist organizations."
A former UNRWA official acknowledged in 2014 that it takes "no steps at all to prevent members of terrorist organizations, such as Hamas, from joining its staff."
UNRWA spokesman Chris Gunness said Friday that the tunnel "has no entry or exit points on the premises nor is it connected to the schools or other buildings in any way," The Times of Israel reported.
Gunness called the tunnel "unacceptable," adding that UNRWA"protested to Hamas" and would work to seal it.
Hamas, for its part, denied responsibility for the tunnel.
During the 2014 Gaza war, at least three Hamas weapons caches were found in UNRWA facilities, while a Hamas terror tunnel was found in a booby-trapped UNRWA clinic.
Middle East historians Alexander Joffe and Asaf Romirowsky described UNRWA in August 2014 as "effectively a branch of Hamas." They noted that most UNRWA employees belonged to a Hamas-affiliated trade union, while the agency's school curricula was dictated by the Islamist group.
UNRWA isn't the only Gaza-based organization with links to Hamas.
The Gaza director of the international charity World Vision, Mohammad el-Halabi, was arrested by Israel for funneling millions of dollar of aid money to Hamas last June. This prompted World Vision to suspend its Gaza operations and both Australia and Germany to announce that they would stop funding World Vision pending the completion of Israel's investigation.
Israeli authorities also arrested Waheed Borsh, an engineer with the United Nations Development Program (UNDP), last July for assisting Hamas in building its military infrastructure.
An Israeli official assessed last January that Hamas has the same number of attack tunnels that it had prior to the start of the 2014 war.
Gen. Yossi Kuperwasser, formerly the head of the research division of Israeli military intelligence and later the director general of the Ministry of Strategic Affairs, told reporters last May that Hamas is investing "a lot in making the necessary preparations so that in the next round, when they decide to start it, they will be able to inflict the heaviest damage on Israel."