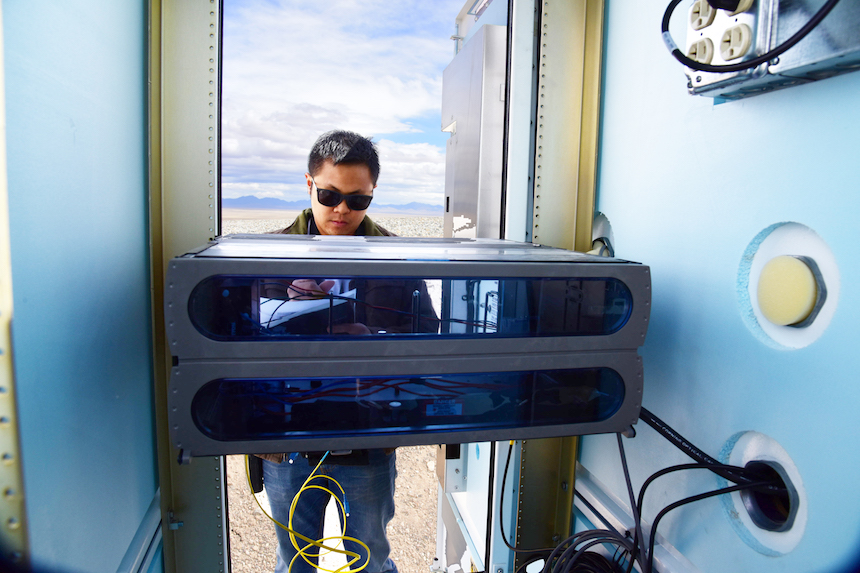 A former test director at Sandia National Laboratories' Tonopah Test Range has described its combination of old and new tracking and data-collection equipment as like a mix of horseless carriages and horses — you can't feed oats to the horseless carriages and you can't gas up the horses.
It's been a challenge for Tonopah to keep decades-old equipment running while gathering the detailed information required for twenty-first century non-nuclear testing. Over the past several years, the 60-year-old Nevada range has changed the analog brains in instruments to digital, moved to modern communications systems, upgraded telemetry and tracking equipment and updated computing systems.
Sandia Lab says that the project replaced four analog reel-to-reel recorders that had fifteen minutes of recording time. Mark Skobel, who runs Tonopah's telemetry operations, said new hard-drive technology provides faster recording and greater storage. It can record 16 analog and 16 digital channels and archive dozens of missions.
Updated receivers and related equipment increased bandwidth and improved data quality. Skobel, who began working in telemetry in 2011, said the higher data rates allow engineers to more quickly analyze output from sensors, while other upgrades offer greater detail for analyses. Tonopah installed additional telemetry receivers between 2013 and 2015.
Numerous Tonopah systems upgraded
Three years ago, Tonopah replaced its mobile telemetry trailer with one that has a new antenna system, six telemetry receivers, a telemetry recorder and ancillary equipment.
About the same time, Tonopah refurbished two tracking antenna dishes at the compound, replaced two antenna control units and acquired a mobile backup system that eventually will be moved to the range's east side for better overall reception.
The control room now features dozens of flat-screen color computer monitors that display detailed tracking information — real-time video of tests and telemetry data fed from Tonopah's Range Acquisition and Control System tracking computers and Test Evaluation Command and Control System. The modern tools replaced black and white screens and analog, push-button equipment so old that range test director Joe Simile felt he'd stepped back in time and "thought I'd look out and see a Mercury capsule" from NASA's 1960s-era program.
Construction projects in the tower three years ago and last year "got rid of the old stuff and went digital," replaced wiring and communications links and rid the tower of asbestos hazards, Simile said.
The research and development team of Stephanie Shreck, Steve Ohrt, Richard Crowder and Dave Flegel upgraded, integrated and validated new systems and closed the interoperability gaps that emerged in folding new equipment into a long line of legacy systems.
Just last year, workers installed miles of fiber-optic cable around the vast range.
Sandia notes that upgrades extend to field equipment as well. Analog innards have been swapped for digital in Tonopah's cinetheodolites or cines, combination photo-recording and surveying instruments that look like miniature astronomy observatories and track and photograph targets. Simile said cines were converted two years ago as manufacturers phased out film. In the meantime, Tonopah bought all the film and film-processing chemicals possible so cines could keep shooting film until converted.
A 1950s-era tracking telescope built at Sandia Labs' long-gone foundry on top of an old Navy gun turret looks much like it did originally. But inside, its hydraulic drive has been replaced with a DCdrive control systems and new high-speed digital camera, said Glen Watts, Tonopah's technical team lead. The operator in the seat now uses a laptop, joystick and touch-screen monitor to operate the 117-inch-long telescope.
By fall, the operator on the mount will be gone as well. Tracking equipment now handled by operators at field sites will be controlled by a remote operator at the Test Operations Center.
This article is published courtesy of Homeland Security News Wire.