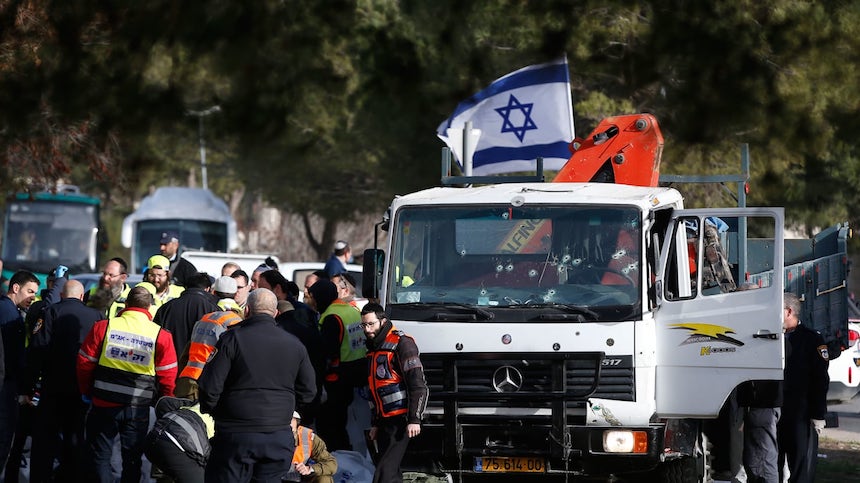 On 14 July 2016, Tunisian-born Mohamed Lahouaiej-Bouhlel drove a 19-ton truck into a crowd celebrating Bastille Day at Nice's Promenade des Anglais, killing eighty-six people and wounding more than 430 others. ISIS claimed responsibility for the terrorist attack two days later, calling Lahouaiej-Bouhlel a "soldier of the Islamic State." The attack in Nice, though not the first of its kind, was the deadliest modern vehicular terrorist attack in Europe, launching a wave of terrorist and ISIS-claimed vehicular attacks around the world. Since the Nice attacks, major vehicular incidents were perpetrated in Vienna, Ohio, Berlin, London, Antwerp, Stockholm, Paris, and Barcelona.
CEP notes that in the fall of 2016, a wave of vehicular terrorist attacks collectively left twelve people dead and 67 others wounded. In September 2016, an assailant drove his car at shoppers in Vienna's Favoriten district while shouting "Allahu Akbar," leaving no injuries. In November 2016, Somali-born Abdul Razak Ali Artancarried out a car and knife attack at Ohio State University, wounding eleven people. In December 2016, Tunisian-born Anis Amri charged at pedestrians attending the Christmas Market in Berlin, killing 12 people and wounding 56 others in an attack claimed by ISIS. Footage released by the ISIS-affiliated Amaq news agency showed Amri pledging allegiance to the group's leader, Abu Bakr al-Baghdadi, vowing "we will slaughter" the "crusaders who are shelling the Muslims every day."
Vehicular attacks continued into 2017, leaving at least 29 people dead and more than 170 wounded. On 22 March 2017, terrorist assailant Khalid Masood killed five people and wounded 50 more during a vehicle and stabbing attack in London. The following day, a similar attack was thwarted in Antwerp, Belgium. On 7 April, another assailant carried out a suspected terrorist attack, this time in Sweden, hijacking a truck and careening into crowds of pedestrians at the Ahlens Mall in Stockholm, killing four people and wounding fifteen more.
On the evening of 3 June 2017, three assailants drove a van at high speed into crowds on the London Bridge and exited the vehicle to stab other pedestrians at the nearby Borough Market. The attack, claimed by ISIS, left at least seven people dead and forty-eight others wounded, and followed a call by ISIS on 17 May to carry out terrorist attacks in the United States, United Kingdom and European Union using knives and trucks. On 19 June 2017, an assailant drove at a crowd of worshipers near a mosque in north London, leaving at least eight people wounded. Later that day, an armed assailant rammed his vehicle at a police car on the Champs-Elysees street in Paris, seriously injuring himself but leaving no other casualties. On 17 August 2017, a van was deliberately driven into a crowd of tourists in Las Ramblas, a tree-lined street in the center of Barcelona. The attack, claimed by ISIS, left at least thirteen people dead and fifty others wounded.
CEP says that despite the recent uptick in ISIS-claimed attacks, vehicular attacks are not a new phenomenon. Terrorists have carried out car-ramming attacks for more than a decade, in locations ranging from North Carolina to Jerusalem, Tel Aviv, Quebec, Dijon, Nantes, the West Bank, Graz, and Xinjiang.
"The recent uptick in vehicular attacks, however, appears to have been in large part inspired by ISIS's explicit calls to employ cars as weapons," CEP says. In May 2017, the U.S. Transportation and Security Agency (TSA) issued a warning to truck and bus companies urging companies to watch out for potential vehicular terrorist assailants and listing more than a dozen car-ramming attacks since 2014 that have collectively killed more than 170 people. As the TSAwrote in its memo, terrorists groups will likely continue to encourage "unsophisticated tactics such as vehicle-ramming" since these types of attacks are difficult to prevent and "could inflict mass casualties if successful."
CEP concludes that:
As the TSA notes, vehicular terrorist attacks are becoming "more commonplace around the globe." Indeed, terrorists are increasingly relying on low-sophistication tactics like car-ramming and stabbing to kill or injure large groups of people without easy detection or intervention by law enforcement. These assailants often target locations where large numbers of people congregate, particularly on or around major national holidays, when civilians are likely to be outdoors shopping or celebrating.
Although there is little that can be done to prevent the weaponization of motor vehicles, the TSA has encouraged bus and trucking companies to be vigilant about indicators—like modifications to vehicles—that may suggest a vehicular terrorist attack. The TSA has also encouraged the use of vehicle barriers to prevent vehicles from accelerating into populated areas, protecting large crowds of people from attacks at outdoor venues like concerts, sporting events, and holiday markets.
— Read more in Vehicles as Weapons of Terror (Counter Extremism Project, August 2017)