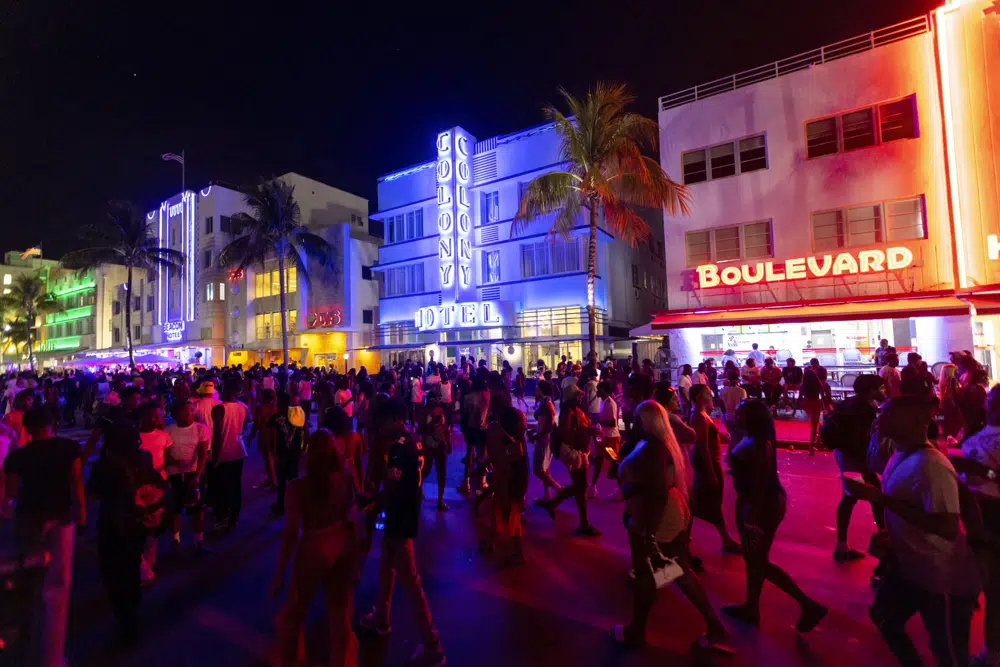 For the third year in a row, Miami Beach finds itself struggling with spring break violence, including two fatal shootings and unruly crowds, despite a massive police presence and activities designed to give people alternatives to drinking alcohol and roaming the streets.
The party-all-the-time vibe in the South Beach section of the popular barrier island city has already led officials to ban alcohol sales at larger clubs after 2 a.m. Police are stationed everywhere, including in mobile towers that give officers a birds-eye view of the streets. Art, music, yoga and volleyball tournaments were added this year to give people something to do, at least during the day.
Yet the violence and street chaos continues at night. All night.
The city imposed an overnight curfew that ended Monday morning but decided at a City Commission meeting not to enact a second curfew next weekend, when the Ultra Music Festival will draw thousands of people to South Beach. It's the third weekend of spring break when the worst chaos occurs, said Commissioner Kristen Rosen Gonzalez.
"Ultra weekend is not the problem," she said.
Commissioner Ricky Arriola agreed, saying there may need to be metal detectors, security fences or other measures installed next year in certain sections of Miami Beach. He noted that dozens of businesses and their workers depend on the crowds the Ultra event bring in.
"A curfew is not a long-term solution," he said. "We're taking it out on law-abiding businesses."
The panel did decide, as it did last year, to force liquor stores in the South Beach area to close early at 6 p.m. during next weekend. Officials did point out the city manager still has emergency authority to order a 72-hour curfew despite the commission's reluctance.
Mayor Dan Gelber wants the violence and disorder to stop.
"The volume of people in our city, the unruly nature of too many and the presence of guns has created a peril that cannot go unchecked," Gelber said in a video statement issued Sunday. "It is clear that even an unprecedented police presence could not prevent these incidents from occurring."
Gelber added: "We don't ask for spring break in our city. We don't want spring break in our city."
Miami Beach police reported at least 322 arrests on a variety of charges between Feb. 27 and Sunday. Gelber said more than 70 firearms were confiscated in that time. This has been happening despite police officers working up to 14-hour shifts six days a week, according to a city emergency declaration.
The latest shooting happened at around 3:30 a.m. Sunday on Ocean Drive in South Beach, police said. A male was shot and died later at a hospital, and officers chased down a suspect on foot, police said on Twitter. Their identities were not released, nor were any possible charges.
Grainy security footage being shared on social media shows a man pulling a gun from underneath his T-shirt and firing multiple shots, striking another man as crowds quickly scattered.
"Next thing I know, I started hearing about two shots. I got low and got scared," Travis Turner, a bystander from Michigan, told WSVN-TV.
On Friday night, one male victim was killed and another was seriously injured in a shooting that sent panicked crowds scrambling from restaurants and clubs into the streets. Police detained one person at the scene and found four firearms, but no other details have been made available.
David Wallack, owner of Mango's Tropical Cafe, said nightclubs are being unfairly blamed for the shootings, and city officials need to work more closely with business owners to prevent violence in the future.
"What was going on out in the streets was not customers of businesses," Wallack said. "The majority of all those people in the street, they're bringing their own stuff to the party. They don't have the money to pay $20 a drink."
Tolga Bugdaci, 21, who was visiting South Beach from Dusseldorf, Germany, said he's not surprised the city decided to enact a curfew over the past weekend.
"I can understand it, but it doesn't necessarily have to be this way," Bugdaci said, adding that he did not witness either shooting. "We woke up to it, and everything was yellow on the street. It was crazy, we had never experienced anything like this before. It was a different world to us."
Under the now-expired curfew, people had to leave businesses before midnight, although hotels can operate later only in service to their guests. Restaurants could stay open only for delivery and the curfew won't apply to residents, people going to and from work, emergency services and hotel guests. Some roads will be closed off and arriving hotel guests may have to show proof of their reservations.
Last year, the city imposed a midnight curfew following two shootings, also on Ocean Drive. The year before that, authorities made about 1,000 arrests and confiscated dozens of guns during a rowdy spring break that led Miami Beach officials to take steps aimed at calming the annual festivities.
For some business owners, the crowds have become impossible to manage. Vice Mayor Steven Meiner said there will be a debate in the coming months about how to prepare better for next spring break.
"I don't view any other option at this point other than to do metal detectors. I'm not going to through next year and have dead people on our streets," he said. "I don't understand how we can't make a secure perimeter around this. We're going through the same thing year after year."
– David Fischer and Curt Anderson, AP News