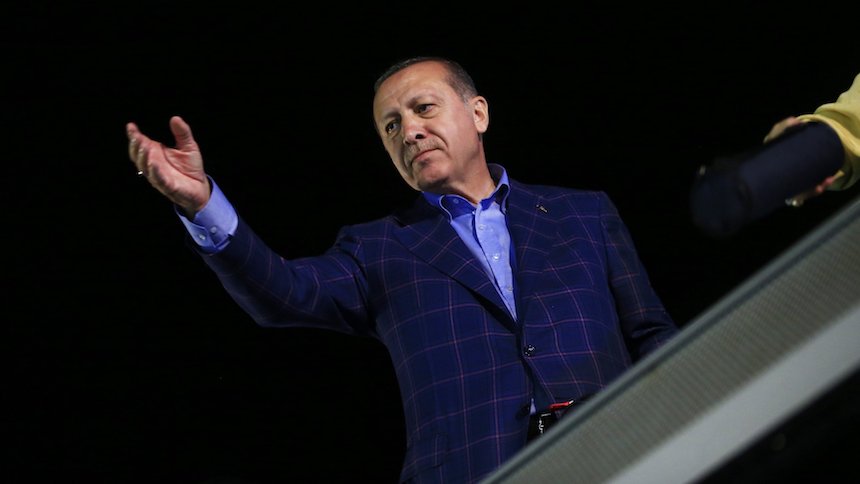 After a long and contentious referendum campaign, Turkey has voted to endorse a package of constitutional changes that will turn the country's long-established parliamentary system into a presidential one. President Recep Tayyip Erdoğan declared that his proposals had passed, with just over 51% of votes in favour.

While opposition parties have said they'll challenge the result, its significance of this result should not be underestimated. This is a watershed moment in Turkish history, and it will fundamentally change the republican system established by Mustafa Kemal Ataturk in 1923. Many in Turkey and beyond view these constitutional changes as the building blocks of an authoritarian system.
Until now a largely ceremonial role, the presidency will become an executive office. The Turkish president will now have far greater discretion to appoint and remove ministers, judges and other government officials; they will also be able to represent a political party, rather than staying independent from politics as head of state. They will be able to dissolve parliament easily, and will enjoy power over all aspects of Turkish politics and society.
This will dramatically erode badly needed checks and balances that have already been slowly chipped away. While the country's various opposition parties confront a very uncertain future, Erdoğan will be able to strengthen his power base by appointing a new government, including deputy presidents and senior members of the state bureaucracy.
To understand how Turkey got here and think about what comes next, it pays to remember the conditions under which the vote was taken. Turkish voters made this crucial decision under a state of emergency that's been in place since the failed coup attempt of July 2016. Ever since, many Turks have seen their basic human rights violated, with opposition groups – including academics, journalists, public figures and politicians – variously dismissed, silenced or arrested.
One of the strongest opposition parties, the pro-Kurdish People's Democratic Party (HDP) has seen its elected members of parliament and mayors in southeastern Turkey arrested and put in jail. Since the coup attempt, many civil society organisations and media outlets have been banned and closed, denying the "no" campaign crucial access to nationwide audiences.
This is the atmosphere in which the vote was conducted – and by almost any important measure, it was far from a level playing field.
Stacked deck
The "yes" campaign was supported by the ruling party and Erdoğan, whereas the "no" campaign was supported by the HDP, the Republican People's Party, and a ragbag group of politicians from the right-wing Nationalist Movement Party. These groups were prevented from organising rallies in various parts of the country, and were smeared as traitors and terrorists by the ruling party and president – who was legally meant to stay neutral during the campaign.
As the journalist Patrick Cockburn has described, the campaign's unfairness was plain to see in the airtime the different parties enjoyed on the state television. As of March 30, Erdoğan and his ruling AKP received 4,113 minutes of airtime; the CHP, which received 25% of the vote in the last election, got just 216 minutes. The HDP, which won more than 10% of the vote at the last national elections, got just one minute. If it hadn't been for social media, the "no" campaign might have had no voice at all.
More depressing still are reports of outright abuse. In an interim report from its referendum observation mission, the OSCE's Office for Democratic Institutions and Human Rights described the campaign as far from fair or free, pointing not just to pro-"yes" media bias but to incidents of police harassment and even violence against "no" campaigners.
The referendum result lays bare Turkey's serious problems. This is a polity polarised and a society deeply divided. Having robbed the presidency of any veneer of neutrality, Erdoğan can make no claim to be a president for all Turks – but from now on, he won't even need to pretend to be.
The core institutions of Turkey's once-growing democracy are set to be dismantled. Civil society structures, freedom of speech and assembly, and the separation of powers are all in mortal jeopardy. In their place will arise a new style of government that could be called Putinistic, albeit with a distinctly Ottoman flavour.
Erdoğan will continue to flaunt his status as a democratically elected president, governing in the name of the "New Turkey" he claims to be building – and he will now have a free hand to be as undemocratic as he likes.
Alpaslan Ozerdem, Chair in Peace-Building, Co-Director of Centre for Trust, Peace and Social Relations, Coventry University and Bahar Baser, Research Fellow, Coventry University
This article was originally published on The Conversation. Read the original article.