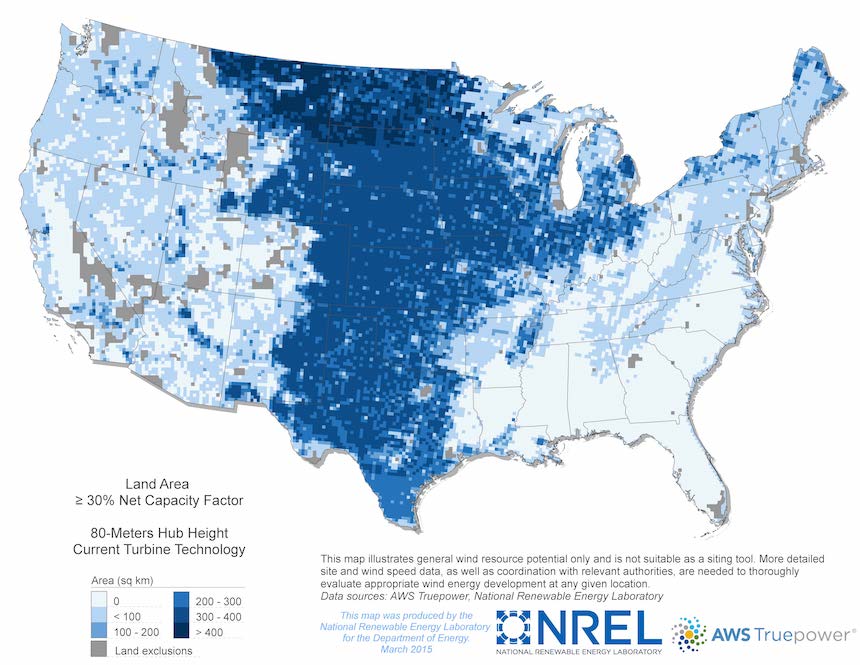 Sri Sritharan called up a digital map of the United States and pointed to a dark blue band running through the middle of the country.
That's wind country. The blue band runs east from the Rockies to just south of the Great Lakes, then around Arkansas and down to south Texas. It shows where there's potential capacity for wind turbines 80 meters (about 262 feet) above the ground. That height is the current standard. You can see those towers all over Iowa.
But look at another map, said Sritharan, the Wilkinson Chair in Iowa State University's College of Engineering, a professor of civil, construction and environmental engineering and the interim assistant dean for strategic initiatives. When turbines are 140 meters (about 459 feet) off the ground, that blue band expands to the Southeast, moves around the Appalachians and covers parts of the Northeast, according to studies by the U.S. Department of Energy's National Renewable Energy Laboratory based in Golden, Colorado.
"These slides are starting to create a lot of interest," Sritharan said. "Taller turbine towers can enable wind energy production in all 50 states, including those in the Southeast."
Winds at higher elevations, generally, are stronger and more consistent, even in wind-rich states such as Iowa and Texas. In fact, Sritharan said a 20-meter increase (about 66 feet) in tower height creates a 10 percent boost in Iowa energy production.
And so Sritharan has been leading development of new concrete tower technology capable of reaching those heights.
He calls the technology "Hexcrete," which can also be combined with steel tubular technology to create hybrid wind turbine towers.
The basic idea of Hexcrete is that it's assembled from precast panels and columns made with high-strength or ultra-high-performance concrete. Those panels and columns can be cast in sizes that are easy to load on trucks. They are tied together on-site by cables to form hexagon-shaped cells. A crane can stack the cells to form towers as high as 140 meters.
IAState says that Sritharan has just completed an 18-month study of Hexcrete supported by $1 million from the U.S. Department of Energy, $83,500 from the Iowa Energy Center and $22,500 of in-kind contributions from Lafarge North America Inc. of Calgary, Alberta, Canada. The project's industry partners also include the Siemens Corp.'s Corporate Technology center in Princeton, New Jersey; Coreslab Structures (OMAHA) Inc. of Bellevue, Nebraska; and BergerABAM of Federal Way, Washington.
Lab tests, economic studies
Sritharan and his research group have pushed and pulled an assembled test section with 100,000 pounds of force for more than 2 million cycles. The test section passed that fatigue test. The researchers have also tested a full-scale, cross-section of a tower cell for operational loads and extreme loads for a 2.3 megawatt Siemens turbine. Again, Hexcrete passed the tests.
"The testing was very successful," Sritharan said. "The testing did show the system will work as we expected. There are no concerns about the cable connections or the concrete panels and columns."
The technology also looked good in economic studies.
"Our study shows the Hexcrete option at heights of 120 to 140 meters (about 394 to 459 feet) will be cost competitive," he said.
The Iowa State researchers used models from the National Renewable Energy Laboratory to calculate the levelized cost of energy. The levelized cost is the total cost of installing and operating an energy project over its expected life.
The researchers also worked with about a dozen wind energy companies to evaluate the models and confirm the economic findings were realistic.
Sritharan said the models show using Hexcrete technology to build 120- to 140- meter wind turbine towers could drop the levelized costs 10 to 18 percent under the costs of current 80-meter technologies.
A prototype tower
With the lab and economic studies showing positive results, Sritharan said he's working to form a university-industry partnership to build a prototype Hexcrete tower. He said the tower would likely be 100 to 120 meters high (about 328 to 394 feet). And it could be entirely Hexcrete or it could be a hybrid tower with a Hexcrete base and a tubular steel top.
With appropriate financing, Sritharan said a prototype tower could be built in about a year. It could even be built in the Southeast.
That could be a good demonstration of the wind maps that, for example, show little potential for Alabama wind energy at 80 meters, a little potential in the northeast corner of the state at 110 meters (about 361 feet) and nearly statewide potential at 140 meters.
"Tall towers," Sritharan said, "can add more capacity for renewable energy in all states across the nation."
This article is published courtesy of Homeland Security News Wire.