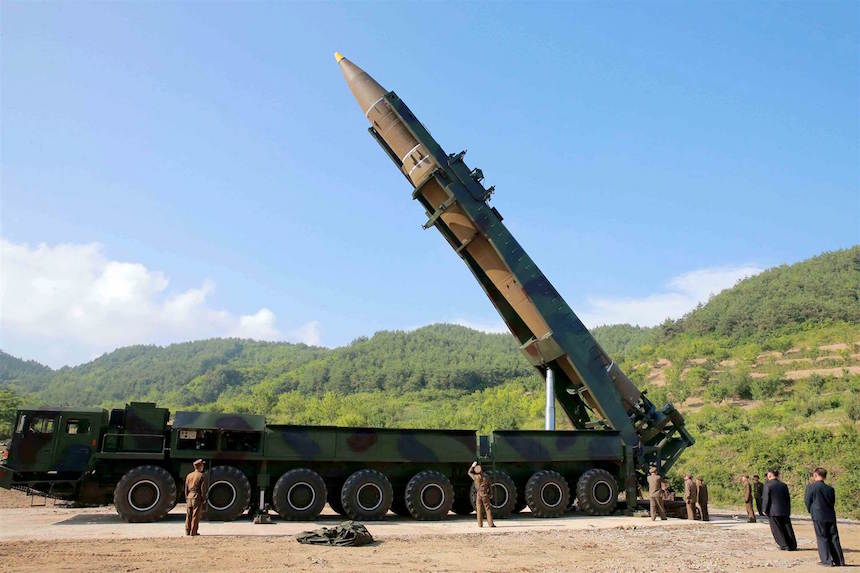 Officials in Hawaii are preparing for a North Korean nuclear attack.
State officials said they would not want to create a panic among the islanders, but that the right thing to do under the circumstances was to have the Hawaii Emergency Management Agency unveil a public education and information campaign aiming to inform people what to do in the event Pyongyang launched a nuclear-tipped missile targeting Hawaii.
"We do not want to cause any undue stress for the public, however, we have a responsibility to plan for all hazards," said Vern Miyagi, Hawaii Emergency Management Agency administrator, according to the Star Advertiser.
"We cannot wait to begin our public information campaign to ensure that Hawaii residents will know what do if such an event occurs."
The instructions released by the government do not amount to Cold War-era drills by school children being made to hide under their desks to prepare for a Soviet nuclear attack, or to a campaign urging residents to build nuclear shelters in the back yards. Officials in Hawaii said they purpose was to let locals and tourists know what to do if they hear the sound of sirens.
Hawaii News Now reported the preparations will include tests of a new emergency siren on the first workday of each month. "The normal siren will sound, followed by a second siren that would be used in the event of an attack," the news site said.
Experts said it was possible that the missile, with a range of up to 4,000 miles, could reach Alaska or Hawaii, though there is no evidence North Korea is planning a move that would likely result in its nuclear annihilation.
Military experts say that North Korea has likely developed a ballistic missile that can reach Hawaii in about twenty minutes – although it is not clear whether the country has been able to miniaturize a nuclear warhead to fit on top of the missile.
A North Korean launch would be immediately detected by U.S.satellites and ships loitering near the Korean peninsula, given Hawaii residents about 15 minutes to take shelter.
"We don't know the exact capabilities or intentions of the North Korean government, but there is clear evidence that it is trying to develop ballistic missiles that could conceivably one day reach our state," said Miyagi.
The Star Advertiser reports that Business leaders in Hawaii are uncomfortable with the public preparations for a nuclear attack, fearing it would deter tourists.
"Everyone's safety in Hawaii is always our top priority. We support the efforts of the Hawaii Emergency Management Agency to prepare for any threat to Hawaii's well-being, be it man-made or a natural disaster," Charlene Chan, director of communications for the Hawaii Tourism Authority, said in a statement.
"However, we also know from speaking to our tourism industry partners that if reports are misinterpreted about the state's need to prepare for an attack, this could lead to travellers and groups staying away from Hawaii."
This Article is Published Courtesy of Homeland Security News Wire.