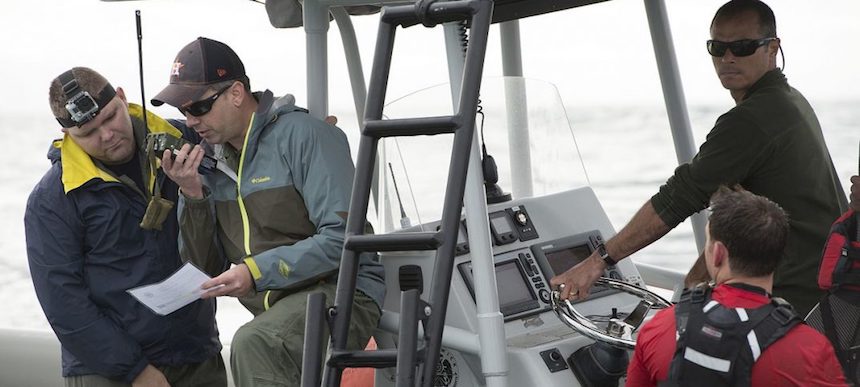 In July 2017, the U.S. Department of Homeland Security (DHS) Science and Technology Directorate (S&T) hosted the week-long 2017 First Responder Electronic Jamming Exercise (JamX 17) at Idaho National Lab (INL) in Idaho Falls, Idaho where nearly 100 federal, state, and local public safety and private organizations gathered to test tactics and technologies to identify, locate and mitigate illegal jamming of communications systems, such as GPS, radio and wireless systems. The exercise served as a continuation of last year's First Responder Electronic Jamming Exercise where participants assessed jamming vulnerabilities in responder communications systems.
Set against a vast and starry Idaho sky, antennas perched on top of first responder deployable communication trucks towered high overhead as first responders waited patiently by their radios for the first jamming test of the night. As the call came through, responders observed their spectrometers, eagerly collected data and experimented with the everyday responder tools on their rigs to stop the interference causing their radio frequencies to spike.
"This year we're being more scientific to allow for more detailed analysis," said Sridhar Kowdley, JamX 17 exercise director from S&T's First Responders Group (FRG). "We're not only looking at the spectrum, but also at the communication modes and distances to see if there are any effects."
Many participants from last year's exercise returned to gather more information for their agencies' training programs, including the Los Angeles (CA) Regional Interoperable Communications System, Harris County (TX) Office of Homeland Security and Emergency Management, Phoenix (AZ) Police Department, U.S. Coast Guard Rescue 21, and Federal Emergency Management Agency Mobile Emergency Response Support Team.
"We've been able to use the information and data gathered from last year's exercise to create a training program for our responders on how to identify signal interference," said Rodney Reed, assistant chief of operational support for the fire marshal's office of Harris County, Texas. "With the data we collect this year, we hope to help responders use the tools they carry everyday out on the field to help stop communication interference."
During the exercise, participants assessed mitigation tactics discovered during last year's jamming exercise as well as new strategies DHS developed in partnership with 2016 participants, which could be used while responding to an emergency.
"We're using physical objects for shielding like small cars and buildings," said Kowdley, "But we've discovered some new tactics as well. The Los Angeles Regional Interoperable Communications System (LA-RICS) team, for example, is looking at things like covering a jammer with thermal blankets or any object that has some metal component to them."
JamX 17 also provided a collegial environment for many of the participating agencies to share information on how to introduce radio and signal interference training to their own programs. Harris County Fire Marshal's Office was the first agency from last year's exercise to develop and implement recurring training on general radio operation and identifying signal interference for first responders. Their program has led many agencies in the Houston area to rethink training for responders who are new to the job.
"We have stakeholders in federal, state, local, industry and academia," said Kowdley. "Having all of us work together clearly allows us to learn from each other and share knowledge."
Recently assigned to the LA-RICS team, Kyle Zuniga, battalion chief of the Los Angeles County Fire Department, remarked on the importance of communication and why sharing strategies on mitigating signal interference among different agencies at JamX 17 is essential.
"Our communications are the basis of our existence as first responders. Any interference that interrupts our communication interrupts our incident management and interferes with our accountability," said Zuniga.
"We're learning from other agencies like the Harris County Fire Marshal's Office on how to implement training and how to convey the importance of communications and radio operations to responders," continued Zuniga. "I think the information we take back will have an impact on how our responders view the significance of knowing how to operate their communication devices as well as how to respond when their device does not work."
Currently, FRG and JamX 17 participants are working to analyze and compile data to develop after action reports and recommend tools for DHS components and state and local public safety components. FRG is also working on an outreach and education campaign to expand the impact of the program to the entire country.
"We will be developing training and best practices and sharing them with communities across the country," said Kowdley. "We want first responders to understand that we are providing them another tool in their tool belt and helping improve their communications resilience"