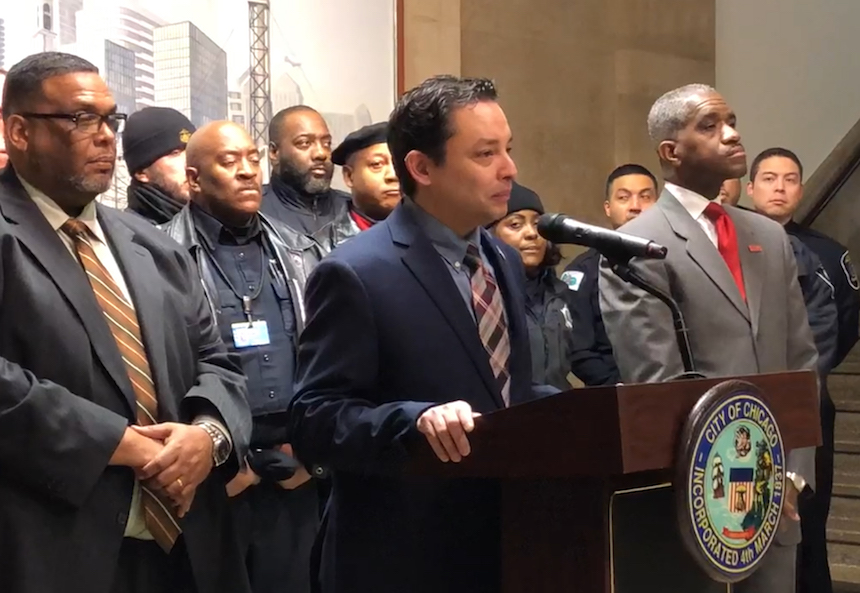 Earlier in July, months after officers with the Chicago Department of Aviation dragged Dr. David Dao down the aisle of a United Airlines plane because he refused to give up his seat for a crew member in an April 9 incident, Aviation Commissioner Ginger Evans ordered the word "police" be removed from the airport security force's uniform and vehicles. The move, according to Evans, was an effort to "consistently reinforce and communicate the ASO (Aviation Security Officer) role as security professionals distinct from Chicago Police." Evan's order led the Illinois Law Enforcement Training and Standards Board to strip the 292-officer security force of their authority to enforce warrants and ticket vehicles at O'Hare and Midway airports.
Former Chicago cop-turned-alderman Chris Taliaferro (29th) has now proposed an ordinance to reverse Evan's order. During a City Council meeting on Wednesday December 13, Taliaferro introduced the ordinance that in addition to adding the word "police" to ASOs' uniforms and vehicles, police powers would be restored, so instead of requiring ASOs to stand down and summon Chicago Police officers to the scene of emergencies at O'Hare and Midway airports, ASOs would have arrest or hold powers. Alderman. Ray Lopez (15th), a former Southwest Airlines skycap at Midway airport applauded the ordinance as critical to public safety. "Individuals come to airports to do harm to people. … The threats to our city are real. They are great. The opportunities that present themselves at airports do exist. The line must not be weakened. … The men and women behind me strengthen that line every day at our airports by putting their own lives at risk," Lopez said.
"They are not security officers. They are not stand-bys until the police get there. … They are the men and women I have seen personally intercede on our city's behalf to maintain the integrity and safety of our airports on a day-to-day basis."
The Chicago Sun Times notes that before the April incident, Taliaferro was pushing to arm ASOs, and on Wednesday accused Evans of overreacting. "To de-commission a police department — to strip away police powers from an entire department is completely wrong," Taliaferro said. "If that is the premise, then the Chicago Police Department should be no more. The LA Police Department should be no more. The New York Police Department should be no more."
Note: Chicago Aviation Security Officers have never been authorized to operate as a police force. The Chicago Police Department does have its own officers stationed at city airports.