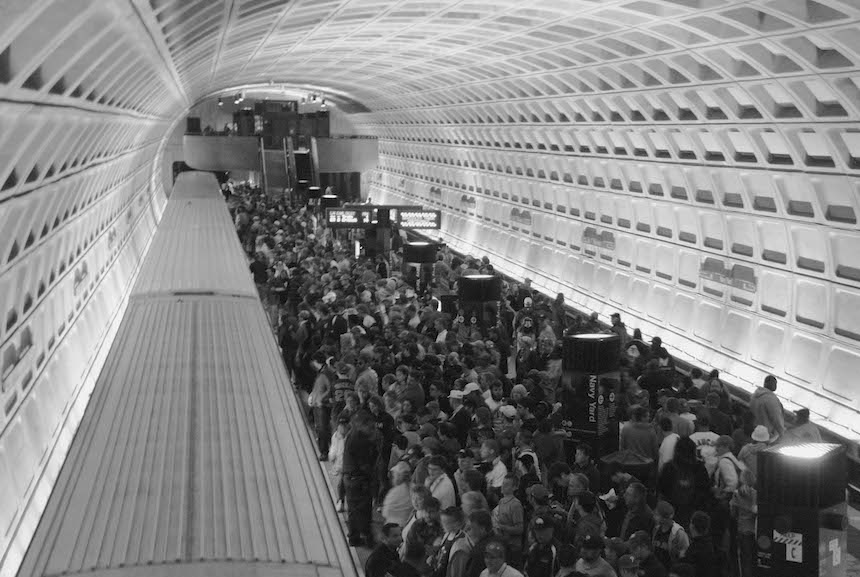 Scan crowds for potential threat items in places like metro and train stations without security officials coming into direct contact with the public and while maintaining individual privacy?
The Department of Homeland Security's (DHS) Science and Technology Directorate (S&T) is seeking to address this challenge by developing a millimeter wave imager that will screen for potential threat items unobtrusively as people pass by, without slowing them down.
In partnership with researchers at the Massachusetts Institute of Technology Lincoln Laboratory, the Directorate reached a significant milestone in this pursuit in October, 2017.
A prototype of the millimeter wave imager underwent a three-day developmental test and evaluation at the Massachusetts Bay Transit Authority's (MBTA) emergency training center in Boston, Massachusetts. The facility served as an excellent testing venue by providing a realistic electromagnetic environment to gauge how the system will function in an operational metro station.
"Successful testing in a representative environment was a key milestone for the effort," said Dr. William Moulder, the program lead at Lincoln Laboratory.
Responsible for this endeavor is a program from S&T's Explosives Division called Surface Transportation Explosive Threat Detection (STETD). Among its holistic, curb to platform approach, the program aims to develop techniques that will automatically highlight possible threat items and then cue security staff.
The millimeter wave technology consists of a set of antennas installed on flat panels. The antennas send out and receive low-power radio signals that can penetrate clothing and backpacks but will reflect off of certain items. Screening commuters from a distance, the technology produces high resolution images in real time, without negatively impacting the speed of travel, and will alarm operators if someone is concealing potential threat items.
Privacy will be maintained through automated anomaly detection; no image of an individual is displayed for review by security personnel.
During the three-day test and evaluation, technology developers from Lincoln Laboratory documented the prototype's ability to detect various simulated threat items at different distances on the rail platform while people were moving within the radar field of view.
"The goal is to make millimeter wave technology as seamless as possible," said Don Roberts, S&T Program Manager in the Explosive Division of Homeland Security Advanced Research Projects Agency.
The flat panel design of the millimeter wave imager can be configured into various sizes to facilitate integration not just in walls and ceilings, but also in columns, and even into fare gates and entryways. Being concealed behind signs and advertisements will allow them to be hidden in plain sight.
"The design can be scaled for large and small implementations depending on the particular case," said Moulder.
Moulder's team is currently developing image exploitation techniques. "We are developing new techniques and algorithms to try to make sense of, or to turn a microwave image into actionable intelligence or information that security staff can use," said Moulder. "With this prototype, we are hoping to provide DHS with a clear assessment of what role this technology can play."
Following the test at the MBTA training facility, S&T will review that data to further improve and refine the millimeter wave system. In the next phase, the millimeter wave prototype will be integrated with other technologies for layered testing.
The technologies S&T's STETD program is developing will be applicable to stadiums and other large crowd environments.
"We want to take advantage of the video information that facilities use on a daily basis and seamlessly dovetail the millimeter wave sensors with the video systems," said Roberts.