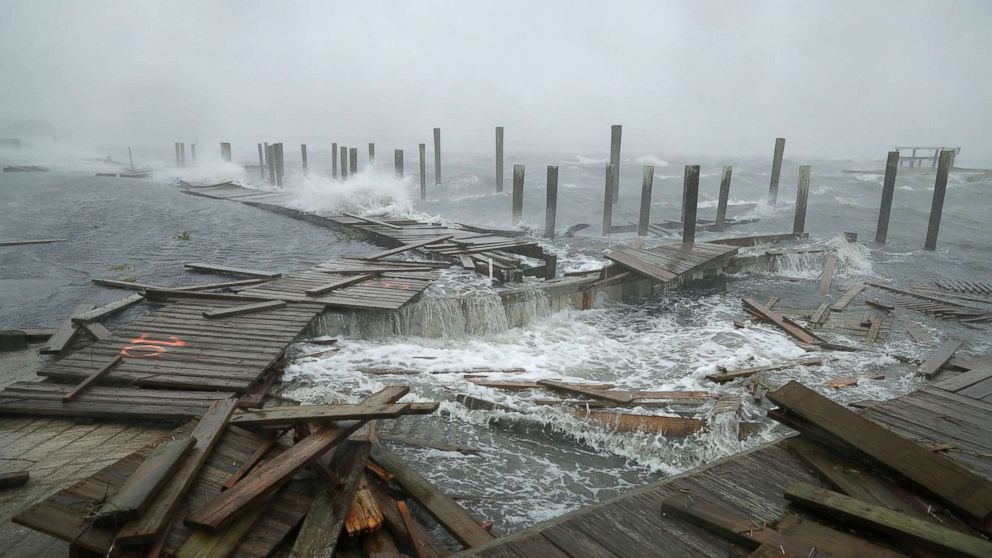 A paragraph might only take a few seconds to read, but when seconds could save a life, are words enough? In a crisis, a picture or video is worth a thousand words.
The Department of Homeland Security Science and Technology Directorate (S&T) saw a requirement to provide responders with a secure, readily accessible way to allow both the picture and the words to help responders make better decisions in a crisis. Together, S&T and partners, Johns Hopkins University Applied Physics Lab and SpectraRep, developed the solution: S&T's Datacasting Project.
Expanding Horizons
In 2015, S&T began testing solutions and funding industry efforts to create a device that encourages more efficient data sharing amongst responders and emergency operations centers. Since then, responder teams have been able to supplement their verbal communications by sharing visual footage from drone cameras, smartphones, and other devices, through datacasting.
"Datacasting provides a faster, more concise information-sharing capability to first responders and security personnel during natural disasters and highly attended events," explained S&T PM Cuong Luu. "After our success with the initial pilots and the adoption of the technology by the city of Houston, Texas, we will continue to explore applications of this technology in different scenarios to benefit first responders with two new pilot projects."
The first will partner S&T's Datacasting technology with the Salt Lake City, Utah, Office of Emergency Management to provide enhanced communications capabilities in support of the city's annual security training exercise. The exercise will bring together first responder agencies throughout the city and surrounding areas to respond to a simulated terrorist attack on a large public venue. Datacasting will be included in the event to test its ability to provide increased situational awareness and data transfer between agencies. Datacasting is the ideal method to deliver large amounts of streaming data like video to a large number of people without overloading the local cellular network. Video, in the case of a large scale attack like the one simulated for this exercise, is the best way to quickly convey information to multiple recipients.
The second pilot test will take place in Adams County, Indiana. This rural county in the northeast of the state will provide the venue for a school safety-focused event. In the wake of recent school shootings, this pilot will focus solely on how datacasting can be used to augment and improve school safety and the response to any emergency event at a school. DHS is currently working with the Adams Central School District and the county dispatch center to allow the Sheriff's Department to view and transmit video feeds from inside the school in case of an emergency. A datacasting server installed at PBS Station WFWA in Ft. Wayne will enable dispatch to transmit live feeds from inside the school to anyone with the appropriate receiver. This will allow for testing of mutual aid and information sharing in a rural setting.
What is Datacasting, Exactly?
For many years, first responders and security teams got by using radio code on walkie-talkies to communicate with each other. Regardless of the type of event they were monitoring, this was the best means of providing updates, despite the potential for miscommunications.
"Something always gets lost in translation," said Lt. Bret Collier, Chief of Staff for the University of Houston Police Department, of radio communication.
Traditional wireless channels lack the bandwidth to share large amounts of data—no photos or video. Communication is exclusively verbal, forcing responders to rely on subjective accounts for situational awareness. Sometimes there is interference, or the signal is weak. These channels are also used by the general public, which could overload network resources and get in the way of both the speed and effectiveness of a response from public safety officials.
"The advantage to this is we can send video directly to the officers, and they can look at an image and know exactly what they are looking at," said Collier.
The key is in using existing television infrastructure, instead of the public wireless network, to help public safety agencies avoid network congestion. A server placed at a PBS station receives incoming data and includes it seamlessly into the broadcast signal. A casual viewer cannot see the broadcast data but an intended recipient can receive the signal anywhere the PBS broadcast reaches. A dongle (hardware that lends additional functionality to other devices) provides the reception capability by enabling devices to receive and decode the encrypted data stream. New ATSC 3.0 standards, which will be implemented at all broadcast stations in the near future, will allow viewing of datacast video on smart phones.
In short, benefits of using television infrastructure include the additional bandwidth for new media, freedom from network congestion, and the flexibility to connect through a public broadcast station anywhere (public television stations can reach 97 percent of the U.S. population today).
Past Pilots and Events
With its wide range of application, datacasting has given responders greater agility and a better lay of the land. S&T and government partners have used datacasting at a variety of events and situations.
2016: Republican Presidential Candidates' Debate
2016: Heavy Flooding in Houston
2016: NCAA Men's Final Four Basketball tournament
2017: Chevron Marathon
2017: Super Bowl LI