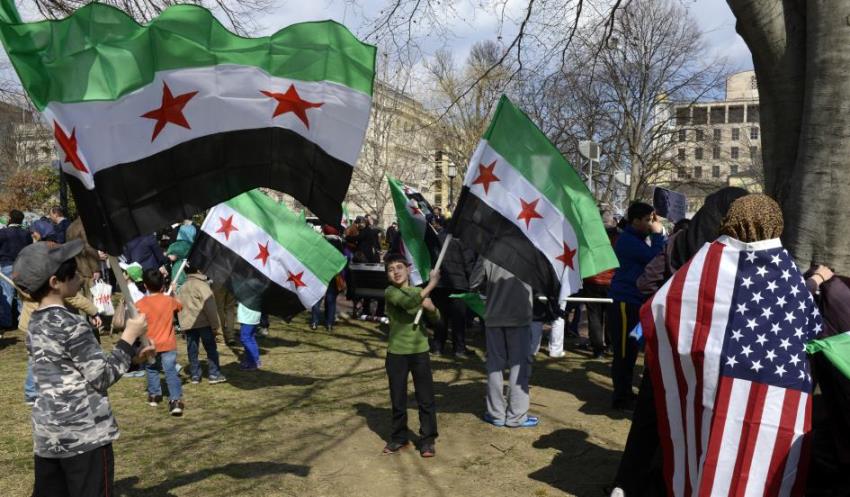 The war of words between President Barack Obama and Republicans lawmakers and governors over the issue of letting Syrian refugees into the United States escalated yesterday, with the president describing the position of GOP governors who want to block the settlement o Syrian refugees in their states, and of lawmakers who want to block funds for the refugee resettlement program, as "offensive and hysterical."
Obama harshly criticized Republicans in Congress who are drafting a bill which would suspend a U.S. refugee program for Syrians.
CNN reports that Obama, in the Philippines for a regional summit, said: "We are not well served when, in response to a terrorist attack, we descend into fear and panic. We don't make good decisions if it's based on hysteria or an exaggeration of risks.
"When individuals say we should have a religious test and that only Christians, proven Christians should be admitted, that's offensive.
"I cannot think of a more potent recruitment tool for ISIL [ISIS] than some of the rhetoric that's been coming out of here during the course of this debate.
"ISIL seeks to exploit the idea that there's war between Islam and the west, and when you see individuals in positions of responsibility suggesting Christians are more worthy of protection than Muslims are in a war-torn land, that feeds the Isil narrative. It's counter-productive. And it needs to stop.
"And I would add, these are the same folks who suggested they're so tough that just 'talk to Putin' or staring down ISIL [will work] … but they are scared of widows and orphans coming into the United States of America as part of our tradition of compassion. At first they were too scared of the press being too tough on them in the debates. Now they are scared of three-year-old orphans. That doesn't seem so tough to me."
House Speaker Paul Ryan (R-Wisconsin) announced on Tuesday that he had formed a taskforce to examine ways to block the administration's refugee resettlement program.
Ryan told reporters on Capitol Hill: "Our nation has always been welcoming but we cannot let terrorists take advantage of our compassion.
"This is a moment where it is better to be safe than to be sorry, so we think the prudent, the responsible thing is to take a pause in this particular aspect of this refugee program in order to verify that terrorists are not looking to infiltrate the refugee program."
CNN notes that Ryan is under pressure from conservative GOP lawmakers to pass legislation defunding the refugee resettlement program and attach it to important spending bills.
"The American refugee laws are important. It's important that we have a refugee system in place," Ryan said. "We respect that, but we think it's simply prudent that for this particular program in this particular situation that we be better guarded against any possible infiltration.
"We've assembled a taskforce starting Saturday to consider legislation as quickly as possible," he added. "We're meeting every day and we will bring legislation forward."
To assuage lawmakers' concerns about the security aspects of the refugee resettlement program, the administration has shared details of its refugee security screening system with members of Congress.
The administration also asserted its executive authority on immigration issues, dismissing threats by Republican governors to block Syrian refugees from their states.
"While states and local authorities have an important consultative role, this program is administered by the federal government," said one official.
Administration officials described the screening process to lawmakers, explaining that the screening begins with the UN in refugee camps and includes extensive interviews by U.S. officials and biometric checks.
Lavinia Limón, head of the U.S. committee for refugees and immigrants, described the process of security checks to which refugees are subjected. She explained that not all the details of the process can be publicly discussed because they are confidential.
Refugees are referred to U.S. screening by the UN, and are then subjected to background and other checks by several U.S. intelligence agencies. If the refugee passes the screening by the intelligence agencies, he or she is interviewed by the Department of Homeland Security, which makes the decision on whether or not to approve the application.
The process takes about two years from a UN referral to an approval by DHS– and during these two year the refugee is subject to additional periodic screening. The intelligence community and DHS pay special attention to men aged 18 to 65.
The United States has so far resettled 2,200 Syrian refugees.
Since February 2011, the war in Syrian has forced an estimated 11.6 million people from their homes – four million have left Syria, and 5.6 million have been internally displaced.
In September, the administration said that 10,000 Syrian refugees would be accepted in the next fiscal year. They will be admitted on top of the 70,000 refugees from around the world which the United States accepts for resettlement each year.
The State Department said that about 15,200 Syrian refugees are currently waiting processing by U.S. agencies.