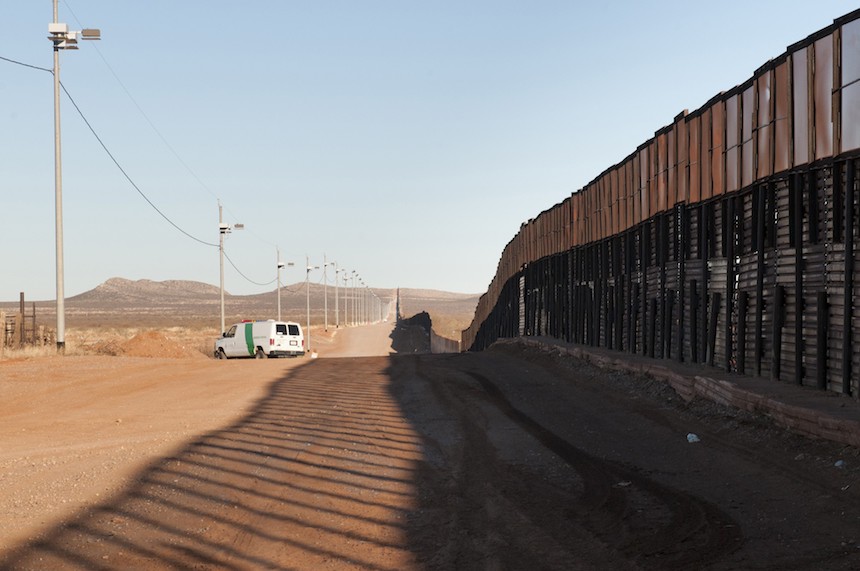 Arrests of migrants illegally crossing the U.S.-Mexican border plunged to the lowest level since 1971, a 23.7 percent decline from FY 2016, according to new numbers from the Department of Homeland Security. Officials say the data reflects President Donald Trump's immigration enforcement policies which discourages illegal immigration into the United States.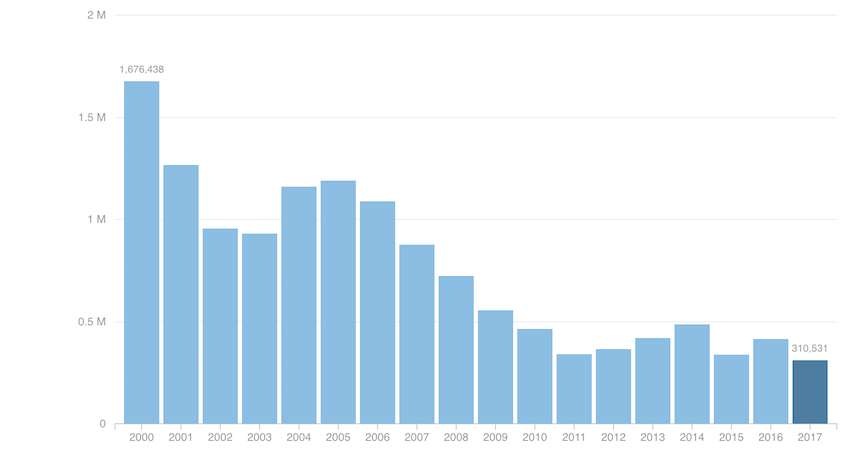 Customs and Border Protection
In FY17, U.S. Customs and Border Protection (CBP) recorded the lowest level of illegal cross-border migration on record, as measured by apprehensions along the border and inadmissible encounters at the U.S. ports of entry. However, in May CBP began to see a month-over-month increase in apprehensions and inadmissible cases along the Southwest border, most notably from children, either as part of a family unit or unaccompanied by their parent or legal guardian.
In addition to the 310,531 apprehensions by U.S. Border Patrol agents, there were 216,370 inadmissible cases by CBP officers in FY17, representing a 23.7 percent decline over the previous year. Illegal migration along the Southwest border declined sharply from January 21 to April, which was the lowest month of border enforcement activity on record.
By the end of the year, family-unit apprehensions and inadmissible cases reached 104,997 along the Southwest border. Another 48,681 unaccompanied children were apprehended or determined to be inadmissible.
CBP continues to be concerned about steady increase in the flow of unaccompanied children and family units from Central America, as transnational criminal organizations continue to exploit legal and policy loopholes to help illegal aliens gain entry and facilitate their release into the interior of the country.
U.S. Immigration and Customs Enforcement
The most significant changes in immigration enforcement strategy can be found in the interior of the United States. The executive orders issued by President Trump in January 2017 strongly emphasized the role of interior enforcement in protecting national security and public safety, and upholding the rule of law. By making clear that no category of removable aliens would be exempt from enforcement, the directives also expanded enforcement priorities for U.S. Immigration and Customs Enforcement (ICE).
Overall, in FY 2017, ICE Enforcement and Removal Operations (ERO) conducted 143,470 arrests and 226,119 removals. Notably, from the start of the Trump Administration on January 20, 2017 through the end of the fiscal year, ERO made 110,568 arrests compared to 77,806 in FY2016 – an increase of 40 percent. During the same timeframe, removals that resulted from an ICE arrest increased by 37 percent, nearly offsetting the historically low number of border apprehensions, a population that typically constitutes a significant portion of ICE removals. Total ICE removal numbers for FY17 (226,119) reflect a slight decline (six percent) from FY2016 (240,255), largely attributed to the decline in border apprehensions.
ICE continued to prioritize its resources to enhance public safety and border security, which is demonstrated by the data, which reflects that ninety-two percent (101,722) of aliens ICE administratively arrested between January 20, 2017 and the end of FY2017, were removable aliens who had a criminal conviction or a pending criminal charge, were an ICE fugitive, or were an illegal re-entrant.
The executive orders also prioritized efforts to dismantle transnational gangs, with a specific focus on MS-13, one of the most violent gangs in the United States. In FY2017, ICE Homeland Security Investigations (HSI) arrested 796 MS-13 gang members and associates, compared to 434 in FY2016 – an 83 percent increase. Overall, HSI made 4,818 criminal arrests related to gang activity and 892 administrative arrests as a result of gang investigations. Additionally, ERO administratively arrested 5,225 gang members and associates.
Overall in FY17, HSI conducted 32,958 total criminal arrests and seized $524 million in illicit currency and assets over the course of investigations into human smuggling and trafficking, cybercrime, transnational gang activity, narcotics enforcement, human smuggling and other types of cross-border criminal activity.
Read the full U.S. Customs and Border Protection, 2017 Border Security Report.