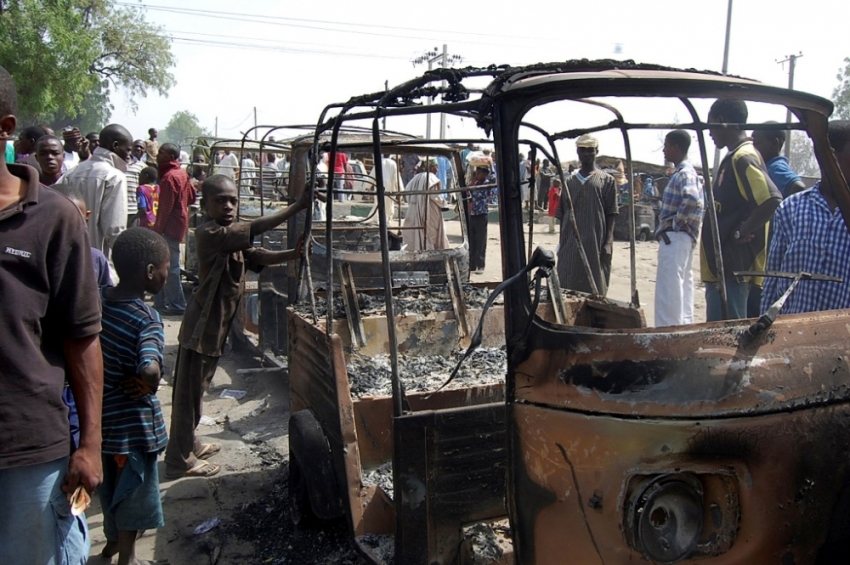 So far this year, the Nigerian Islamist group Boko Haram has destroyed an estimated 1,100 schools in north-east Nigeria, Cameroon, Chad, and Niger, Toby Lanzer, the UN envoy to the Sahel region, said Monday.
Boko Haram launched its campaign of terror in 2009, and central to its Islamist ideology is the rejection of Western schoolings. Many of the group's most vicious attacks have been on schools – from middle schools to colleges – in which they have killed hundreds of students and teachers.
Analyst estimate the Boko Haram has killed about 17,000 people since it began its insurgency.
Al Jazeera reports that Lanzer on Monday also offered updated figures for the number of people displaced by the conflict. He said that Maiduguri, a city in northeastern Nigeria, has seen its population rise to 2.6 million as 1.6 million people fleeing violence have moved into the city of one million residents.
Lanzer said that in total, 2.6 million have been forced from their homes by the fighting — 2.2 million of them displaced in Nigeria's three northeastern states, and the rest in neighboring Cameroon, Chad, and Niger.
Lanzer also said that the refugees fleeing Boko Haram violence have so far not joined the hundreds of thousands of refugees flocking to Europe's shores, but that this could well change if the conditions around Lake Chad – the area most affected by Boko Haram – do not improve.
"Is that something that could be on the cards? Absolutely," Lanzer told journalists, stressing the continuing violence, combined with a rising population and harsh poverty could persuade a large number of young men in the region to try to migrate to Europe.
Lanzer also praised Nigeria's president Muhammadu Buhari, who came to power in May, and the way he has handled the Boko Haram crisis.
"There is a pretty realistic appreciation of the gravity of the situation," he said of the Buhari administration's approach to the insurgency.