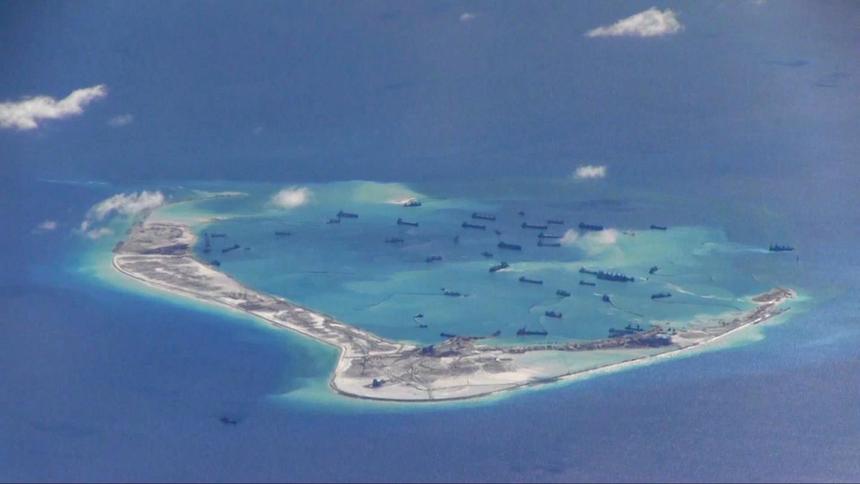 Just over a year ago, former director of national intelligence James Clapper wrote a letter to Senator John McCain (R-Arizona) predicting that China would complete its offensive and defensive facilities in the Spratly Islands in late 2016 or early 2017. He was not far off the mark. The Asia Maritime Transparency Initiative (AMTI) says that major construction of military and dual-use infrastructure on the "Big 3" — Subi, Mischief, and Fiery Cross Reefs — is wrapping up, with the naval, air, radar, and defensive facilities that AMTI has tracked for nearly two years largely complete. Beijing can now deploy military assets, including combat aircraft and mobile missile launchers, to the Spratly Islands at any time.
AMTI is part of Washington, D.C.'s Center for Strategic and International Studies.
China's three air bases in the Spratlys and another on Woody Island in the Paracels will allow Chinese military aircraft to operate over nearly the entire South China Sea. The same is true of China's radar coverage, made possible by advanced surveillance/early-warning radar facilities at Fiery Cross, Subi, and Cuarteron Reefs, as well as Woody Island, and smaller facilities elsewhere. China has maintained HQ-9 surface-to-air missile (SAM) systems on Woody Island for more than a year and has on at least one occasion deployed anti-ship cruise missiles to the island. It has now constructed hardened shelters with retractable roofs for mobile missile launchers on the Big 3.
Fiery Cross Reef
Construction of all the hangars at Fiery Cross Reef — enough to accommodate 24 combat aircraft and four larger planes (such as ISR, transport, refueling, or bomber aircraft) — has finished. In January, radomes were installed atop three previously unidentified large towers on the northeast arm of the reef as well as a tower at the north end of the airstrip. A large collection of radomes installed to the north of the airstrip represents a significant radar/sensor array.
Mischief Reef
On Mischief Reef, the hangars for 24 combat aircraft have been completed and in early March construction teams were putting the finishing touches on five larger hangars. A finished radar tower stands in the middle of the reef and a trio of large towers have been constructed on the southwestern corner. The recent placement of a radome on the ground next to one of these towers indicates that they will follow the same pattern as the identical sets at Fiery Cross and Subi. Retractable roofs are also being installed on the recently-built missile shelters.
Subi Reef
On Subi Reef, construction is complete on hangars for 24 combat aircraft and four larger hangars. Recent imagery shows the radomes on Subi's three-tower array in various stages of completion, along with a completed radar tower next to the runway. Subi Reef also sports what appears to be a high-frequency "elephant cage" radar array on its southern end. This is unique among the Big 3. As with radar facilities at the other reefs, this high-frequency radar is close to a point defense structure, providing protection against air or missile strikes.
For more on Military, Homeland Security News Wire