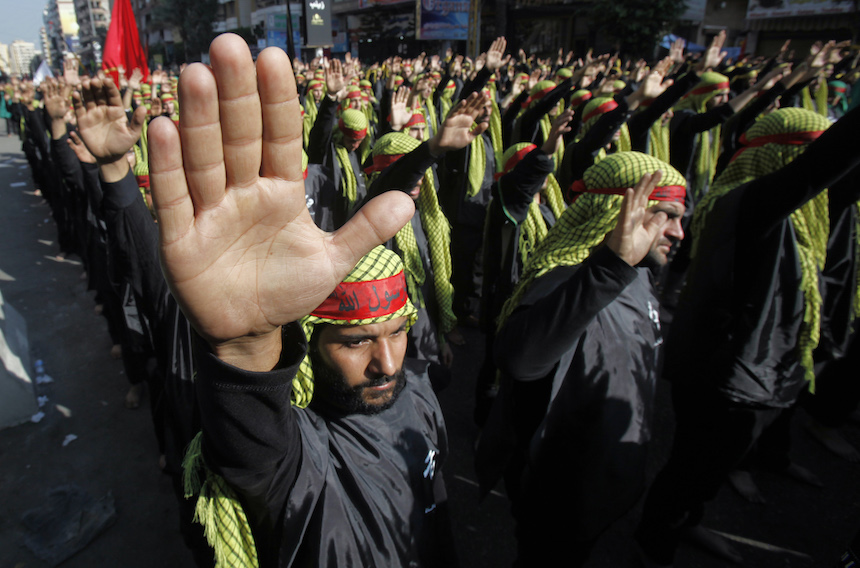 The IDF's chief of staff said on Tuesday that the Iran-backed terrorist group Hezbollah has a presence in "every third or fourth house" in southern Lebanon, in violation of United Nations Security Council Resolution 1701, which called for the removal of all armed groups from the area.
Speaking at the annual Herzliya Conference, Lt. Gen. Gadi Eisenkot said that Hezbollah was ensconced in some 240 villages and towns in southern Lebanon, and remains the most immediate threat to Israel. He added that the Islamist group receives sophisticated weaponry from Iran, some of which is supplied by Russia.
Another Israeli military official warned on Wednesday that if Hezbollah launches an attack against Israel, "thousands" of Lebanese would be put at risk when Israel strikes back. Major-General Amir Eshel, commander of the Israeli Air Force, explained that Hezbollah has established thousands of bases in Beirut, the Bekaa Valley, and southern Lebanon, both "above and below live civilians whom we have nothing against — a kind of human shield."
"And that is where the war will be," he added. "That is where we will have to fight in order to stop it and win. Whoever stays in these bases will simply be hit and will risk their lives. And whoever goes out will live."
Jonathan Schanzer, senior vice president of the Foundation for Defense of Democracies, explained in July of last year that Hezbollah's widely-reported tactic of hiding military assets in civilian areas would lead to mass casualties. Reports emerged in 2013 that Hezbollah was offering reduced-price housing to Shiite families who allow the terrorist group to store rocket launchers in their homes. An Israeli defense official told theNew York Times in May 2015 that the buildup of Hezbollah's terror infrastructure in southern Lebanese villages meant that "civilians are living in a military compound" and that their lives were at risk. A few days later, a newspaper linked to Hezbollah bolstered the Israeli assessment.
Hezbollah hasn't just embedded its military infrastructure among civilians; it is also increasingly entrenched within Lebanon's government.
Tony Badran, a research fellow at the Foundation for Defense of Democracies, wrote in a policy brief earlier this month that the Lebanese government now primarily aims "to defend Hezbollah, and to align its policies with the preferences of the group and of its patrons in Tehran."
Badran pointed to a statement issued by the United States and Saudi Arabia during President Donald Trump's visit to the Middle East last month, which called for "supporting the Lebanese state in enforcing its sovereignty on all of its territory, disarm terrorist organizations such as Hezbollah, and bring all weapons under the legitimate supervision of the Lebanese army."
The Lebanese government rejected this joint U.S.-Saudi statement, Badran observed. It also rejected a final communique at the Riyadh summit, which took place during Trump's visit to Saudi Arabia, condemning Iran's regional subversion.
Badran added that in January 2016, at summits of both the Organization of Islamic Cooperation and the Arab League, Lebanon was the only Arab state not to sign on to resolutions condemning the attacks on the Saudi embassy and consulate in Iran.
Later that year, Lebanon's interior minister was the only Arab interior minister to refuse to sign a statement calling Hezbollah a unterrorist organization, even after Saudi Arabia and the Gulf Cooperation Council had done so.
Saudi Arabia has cut off all aid to Lebanon due to its ongoing support for Hezbollah, and it is now time for the U.S. to "adopt a similar cut-off," Badran argued.
While there was once a reason to believe that the Lebanese state could check Hezbollah's influence, now "that paradigm is as obsolete as it is counterproductive," he wrote.
"In the best case, continued support for the 'Lebanese state' to disarm Hezbollah will merely fail," Badran concluded. "More likely, it will counterproductively bolster Hezbollah, which controls the institutions the U.S. is funding."