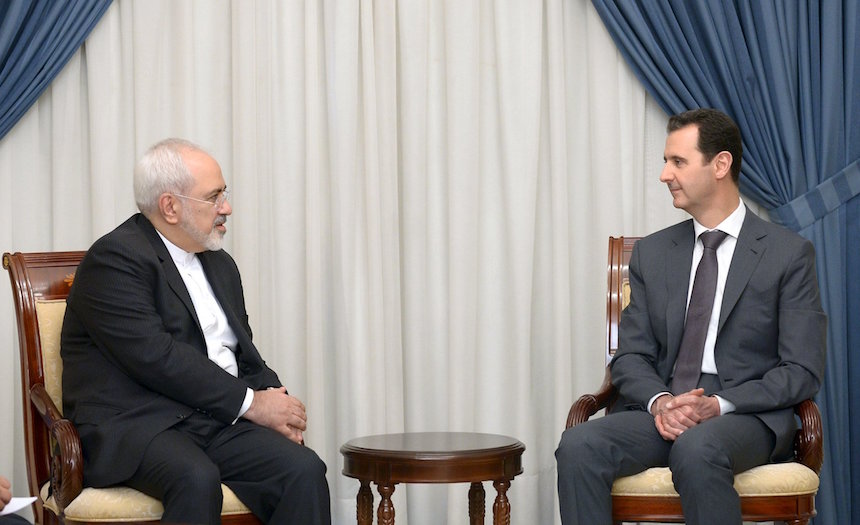 Iran's efforts to build a "direct corridor" from Baghdad to the Mediterranean Sea and further entrench itself militarily in Syria are two of Israel's most pressing concerns, Israel's former national security adviser said Monday.
The corridor, referred to as a "Shiite crescent" by Jordan's King Abdullah, would place Israel's borders in "direct connection to Iran—a long line but still very easy to move forces, capabilities and everything that the Iranians will want to build around Israel," Maj. Gen. (ret.) Yaakov Amidror said. Iran's ability to project its power along this route would "change the whole geostrategic situation in this area."
The establishment of permanent Iranian bases in Syria would pose a more immediate and direct threat to Israel, placing it at risk of simultaneous confrontation with Lebanon and Syria. "Israel might face two battlegrounds," Amidror explained, "one in Lebanon and one in Syria in which the Iranians and Hezbollah will have their infrastructure [that] can be used against Israel, in parallel, and of course it definitely will be connected to the corridor that I just described that it makes the situation even much [more] complicated for Israel."
These bases would act as launching pads for Iranian and Hezbollah attacks against Israel from Syria, and should be prevented "whatever will be the price," Amidror warned.
When asked what Israel might do to prevent Iran from establishing bases in Syria, Amidror said that if the United States and Russia won't take action, "that might lead the IDF to intervene and to destroy every attempt to build infrastructure in Syria." While he noted that Israel would first try to handle things diplomatically, he indicated that resorting to using "military capability" could also be an option.
On the implications of the underground weapons factories Iran is believed to be building in Lebanon for Hezbollah, Amidror answered that the facilities—one of which reportedly produces Fateh 110 rockets that can carry half-ton warheads and reach most of Israel—would have to be destroyed. "Lebanon as a state does not exist. But the price will be paid by the end of the day by the Lebanese," Amidror observed.
He elaborated:
The fact is that the Iranians and Hezbollah are spreading more than a hundred thousand rockets and missiles in Lebanon. The day will come [that] we will have to destroy them and the price will be paid by the Lebanese. So, the world is allowing Hezbollah and Iran to build huge military capabilities in Lebanon and the day will come [that] we will have to deal with it and to destroy it and the price will be paid by the Lebanese. Whoever will be complaining then about the results—the devastating situation of the Lebanese who will have to pay the price—I don't know what percentage of Lebanon will be destroyed in this struggle, but the world will have to reply to itself. The world is not stopping that and the price will be paid by the Lebanese.
French President Emmanuel Macron on Sunday denounced Hezbollah's ongoing military buildup, telling reporters after a meeting with Israeli Prime Minister Benjamin Netanyahu, "I share Israeli concerns on the arming of Hezbollah in southern Lebanon."
Israel's former ambassador to the United Nations, Ron Prosor, wrote an op-ed in May calling on the world community to take action against Hezbollah, which he said has grown stronger than most NATO nations. He urged the UN Security Council to strengthen and enforce resolution 1701, in line with Chapter 7 of the UN's charter, which mandates peace enforcement.
According to a July 2016 report by the Foundation for Defense of Democracies, Israeli officials believe that any future war with Hezbollah has the potential to cause "thousands of civilian deaths" in Israel. Hezbollah has, among other things, threatened to attack ammonium tanks in Haifa, which could kill tens of thousands of people.
Jonathan Schanzer, senior vice president of the Foundation for Defense of Democracies, explained that month that Hezbollah's widely-reported tactic of hiding military assets in civilian areas would lead to mass casualties. Reports emerged in 2013 that Hezbollah was offering reduced-price housing to Shiite families who allowed the terrorist group to store rocket launchers in their homes. An Israeli defense official told theNew York Times in May 2015 that the buildup of Hezbollah's terror infrastructure in southern Lebanese villages meant that "civilians are living in a military compound" and that their lives were at risk. A few days later, a newspaper linked to Hezbollah bolstered the Israeli assessment.
Brig. Gen. (res.) Nitzan Nuriel, a former director of Israel's Counter-Terrorism Bureau, said in March that another war between Israel and Hezbollah was "only a question of time" due to the Iranian proxy's efforts to acquire "game-changing weapons." A week later, Eisenkot assessed that Hezbollah is building up its arsenal in Lebanon, which will bear the brunt of any future conflict between the Iranian proxy and Israel. Israeli security officials warned earlier in March that the Lebanese army, which receives American military aid, will likely fight alongside Hezbollah in a war against Israel.