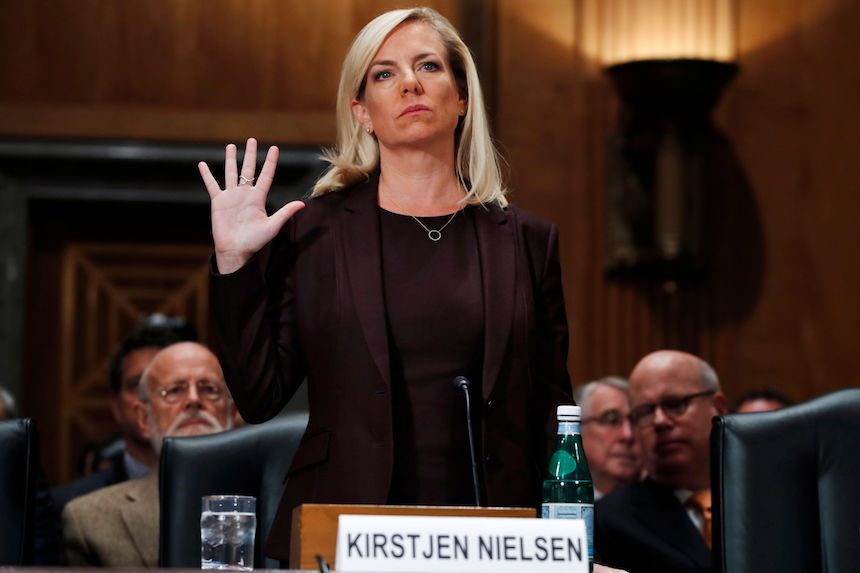 Senate democrats on the Homeland Security and Governmental Affairs Committee have asked that President Donald Trump's nominee for Homeland Security secretary return to the committee to answer questions about independence from the White House should her nomination be approved.
Last Thursday, committee members led by Maggie Hassan (D-New Hampshire) submitted a letter to committee chairman Ron Johnson (R-Wisconsin) and ranking member Claire McCaskill (D-Missouri) asking to delay a confirmation vote set for Tuesday morning to question Trump's DHS nominee Kirstjen Nielsen, who currently serves as the White House deputy chief of staff under current chief of staff and former DHS secretary, John F. Kelly.
Kelly reportedly called acting DHS Secretary Elaine Duke last week, urging her to cancel the Temporary Protected Status (TPS) of roughly 60,000 Hondurans living in the United States for roughly two decades. The decision to renew or terminate TPS status is a DHS decision and Duke viewed the call by Kelly as a politically motivated overstep by the White House. A White House official noted that Kelly informed Duke that extension of the program does not fit the administration's long term goals on immigration and the temporary program should not be a permanent means of residency for refugees. Duke instead decided to end TPS permits for roughly 2,500 Nicaraguans but concluded she lacked sufficient information to terminate permits for the Hondurans. She instead granted them a six-month extension. The TPS permits in question were issued after Hurricane Mitch hit Central America in 1998. DHS will have to make a decision on TPS for some 50,000 Haitians and 200,000 Salvadorans before their permits expire early next year.
"These developments raise important new questions not only about the political interference of the White House in a key national security matter, but also about the qualifications and appropriateness of Ms. Nielsen's nomination to be the next Secretary of the Department of Homeland Security," the senators wrote in the letter. "The nominee must now answer questions about her ability to maintain independence from her current immediate superior, the White House."
Republicans control the committee and Johnson could decline the democrats request to question Nielsen, and as the Washington Post notes, the White House wants the confirmation vote before the Thanksgiving recess.