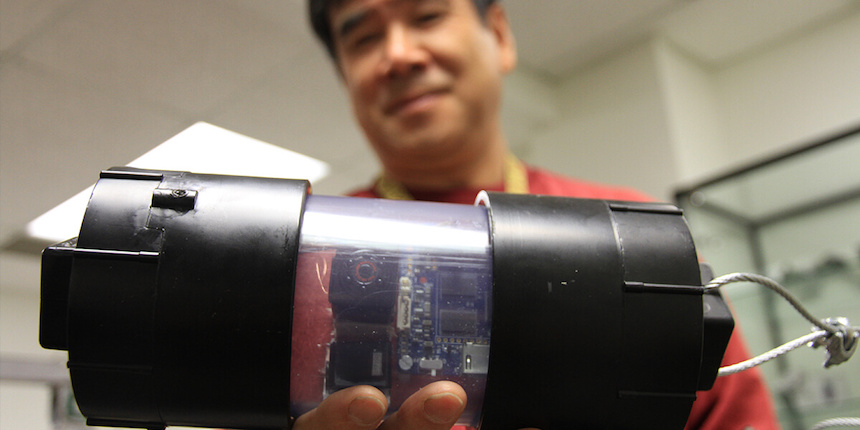 Researchers at USC's Information Sciences Institute (ISI) are developing autonomous robots that can enter water pipes to detect damage and leaks, a potentially more effective and cost saving alternative to excavating and replacing every pipe in an area suffering from a water main break. Current leak detection systems are expensive and sensor signals are difficult to transmit through thick pipes traditionally constructed from metal and cement. "Right now, there is no effective way to visually inspect the inside of a pipe, so you can't tell which section is bad — it's guess work," said Wei-Min Shen, director of ISI's Polymorphic Robotics Lab and research associate professor of computer science at the USC Viterbi School of Engineering.
Roughly two thirds of Los Angeles's 7,000 miles of water pipes are more than sixty years old and nearing the replacement age. When water mains break, streets and homes can flood, underground water systems face structural damage and soil erosion; minor cracks in old pipes can lead to water shortages and contaminate drinking water.
Shen created a robot that can be inserted into water systems through existing fire hydrants. As it moves passively with the water flow, the robot, named Pipefish, captures real-time video of a pipe's interior using a 360-degree camera. An onboard microcomputer controls lights, sensors, and navigation technology to collect data and logs Pipefish's position. Researchers can then analyze the data to determine which pipes within a water system needs replacement or fixes. Additional sensors in Pipefish can collect data on flow rate, illegally dumped chemicals, and flammable materials. Shen and his team have even developed PipeSnake, comprising several Pipefishes joined together using flexible joints to move through the complex underground twists and turns of Los Angeles's vast water network.
The Los Angeles Department of Water and Power is working with Shen to develop the robot and conduct "dry tests" in pipes at the city's Sylmar West Facility in the San Fernando Valley region. Pipefish will undergo both a wet test in the facility and in different pipes of various diameters throughout Los Angeles in early 2018. "The ability to perform accurate and efficient condition assessments on buried pipes will tremendously help Los Angeles and other cities with aging infrastructures," said Ray Hardjadinata, associate engineer with the LADWP Asset Management Group working with Shen and his team. "We are pleased to partner with research institutions and universities such as the USC Information Sciences Institute to develop robots that can help us work more efficiently."